Anybody and everybody should get listed here eventually.
Main Characters
Edit
The House Mates
Edit
The key characters of Sluggy live together in a house. While often separated from each other during storylines, they usually live together and have become sort of a family to each other.
---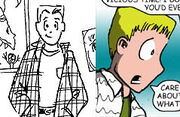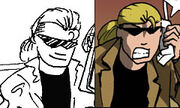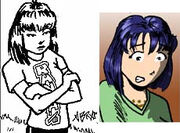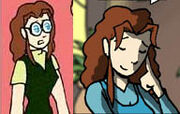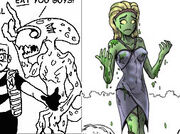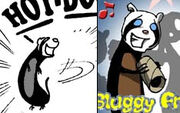 ---
Other Recurring Characters
Edit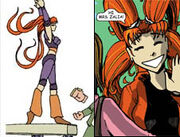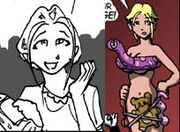 ---
Minor Heroes
Edit
Sluggy Prime
Edit
---
---
Government and Military
Edit
Leaders and Board Members
Edit
Associates and Minions
Edit
---
Holidays
Edit
---
---
---
---
Parodies
Edit
---
---
Sentient hardware
Edit
---
Supervillains
Edit
Crushestro Weapons
Edit
NoFun Corporation
Edit
Zark Industries
Edit
---
---
The "Torg Potter" story arcs take place on Hoggelrynth, where Torg mingle with students and tutors of magic, while being consistently confused for Torg Potter the lastnameless one.
---
Vampires
Edit
---
Web of Fate
Edit
---
Other Minor Characters
Edit
---
Other Dimensions
Edit
---
The so-called "Dimension of Lame" is a place of tranquility and quiet. The "lame" part is that everyone eats only ricecakes and drinks only spring water (alcohol is unknown); this is not to the liking of some dimensional travellers (beyond just our Riff and Torg). It is a parallel dimension to Sluggy Prime, where many of the series' main characters appear in overly-innocent and -nice versions.
---
Other Beings
Edit
---
City Leaders
Edit
City Guards
Edit
City Resistance
Edit
---
---
---
Stick Figure Universes
Edit
Stick Figures in Spaaaaaaaace!
Edit
---
Ad blocker interference detected!
Wikia is a free-to-use site that makes money from advertising. We have a modified experience for viewers using ad blockers

Wikia is not accessible if you've made further modifications. Remove the custom ad blocker rule(s) and the page will load as expected.