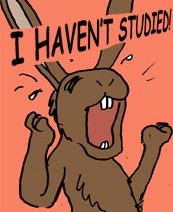 Cinny-bun is a talking rabbit who appears in Holiday Seasons[1].
Cinny-bun is one of the test animals in Dr. Irving Schlock's laboratory. She believes her GPA will suffer because she hasn't studied for the "testing".
In The Slug-Files, Qwirky Waltons and Stone Johnson report on the "scandal" of Bun-bun allegedly having an affair with Cinny-bun.
References
Edit
Ad blocker interference detected!
Wikia is a free-to-use site that makes money from advertising. We have a modified experience for viewers using ad blockers

Wikia is not accessible if you've made further modifications. Remove the custom ad blocker rule(s) and the page will load as expected.