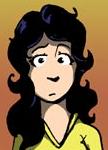 Donna is a minor character who worked as a pizza girl.
Donna attended the 2002 Halloween Party dressed as a sailor. When Sam the vampire discovered that he couldn't leave Brie Meighsaton House due to Kesandru's magic, he mesmerized Gwynn into ordering pizza from Donna so that he could feed off the both of them (taking only small amounts of blood so as not to kill them).
Donna was brought to the Never with the rest of the cast during the Kesandru's Well storyline. She survived, but was fired from her job after running in screaming about "being trapped in Hell and having her clothes devoured by a dragon". She unsuccessfully tried to get a job at the same Burger Meister that Sparky began working at after the destruction of Le Snootier[1].
Donna was swimming at the Scrumptious Feelings Full Day Spa when the ongoing battle between Bun-bun and Oasis forced her to run away[2].
Donna first appeared on on October 16, 2002.
References
Edit
Ad blocker interference detected!
Wikia is a free-to-use site that makes money from advertising. We have a modified experience for viewers using ad blockers

Wikia is not accessible if you've made further modifications. Remove the custom ad blocker rule(s) and the page will load as expected.