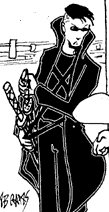 Gothka is a Russian swordsman and minion of supervillain Noah Zark[1].
While pursuing Zoë and Gwynn, Gothka is hit in the shins with a baseball bat by Kiki and then struck by a train, mortally wounding him. Noah saves his life by using Red Durango to transplant his mind into the body of a ferret. However, because there was so little of his body left to work with, Gothka's ferret incarnation is zombie-like[2].
References
Edit
Ad blocker interference detected!
Wikia is a free-to-use site that makes money from advertising. We have a modified experience for viewers using ad blockers

Wikia is not accessible if you've made further modifications. Remove the custom ad blocker rule(s) and the page will load as expected.