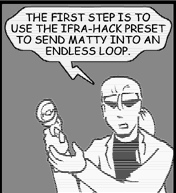 The IFRA-Hack Preset is a small (probably illegal) piece of hardware found in 4U City.
Description
Edit
The IFRA-Hack Preset is a handheld device that sends 4U City Y-Frames into an "endless loop" which effectively disables them[1]. This can only last two days before somebody gets suspicious, at which point the Y-Frame must be reactivated. Alt-Rammer supplied Riff with one of these devices, which he duplicated and spread to the other members of the Resistance through his freedom kits.
References
Edit
Ad blocker interference detected!
Wikia is a free-to-use site that makes money from advertising. We have a modified experience for viewers using ad blockers

Wikia is not accessible if you've made further modifications. Remove the custom ad blocker rule(s) and the page will load as expected.