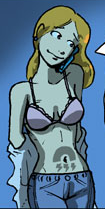 Monica was first introduced in Aylee (chapter) as Riff's girlfriend.
We discover in Mandatory Applause that Monica has a tattoo on her stomach of the Chilus symbol, a cult of K'Z'K. She is helping the cult spy on Riff, Gwynn, and Zoë.
In BROKEN (specifically Roken), Oasis stabs Monica for wearing Hereti-Corp clothing from the House of Cheese (link).
It turns out that Reynold Strom had been following Monica, and after her death he learns that her real name is Erin, and seems interested in finding out more (link).
Ad blocker interference detected!
Wikia is a free-to-use site that makes money from advertising. We have a modified experience for viewers using ad blockers

Wikia is not accessible if you've made further modifications. Remove the custom ad blocker rule(s) and the page will load as expected.