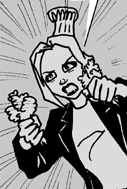 Muffin the Vampire Baker is a character from the story of the same name.
She lives over a hell mouth, and as the Vampire Baker, she is born to live by two rules:
Destroy vampires
Presentation makes the meal
Muffin hunts down vampires by baking them in an oven, at 450 degrees for 20 minutes.
After an encounter with Sam, Muffin sets out to research whether there exist a simpler way to kill vampires than to bake them.
She works with a team of friends including Banter, Biles, Willy-Os, Ugh, and Ifeelya. Also, her boyfriend is a good vampire named Angle.
Muffin is a parody of Buffy from Buffy the Vampire Slayer.
Ad blocker interference detected!
Wikia is a free-to-use site that makes money from advertising. We have a modified experience for viewers using ad blockers

Wikia is not accessible if you've made further modifications. Remove the custom ad blocker rule(s) and the page will load as expected.