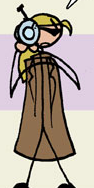 Science Guy is an alternate universe stick-figure version of Riff[1].
Science Guy's parents were shot to death by a supervillain while talking a back alley short-cut after a day at the theater. Some aliens then handed him a bazooka and a scholarship to MIT.
He teamed up with Captain Hippity to fight crime in Stick City, and was later recruited to join The Harassers.
References
Edit
Ad blocker interference detected!
Wikia is a free-to-use site that makes money from advertising. We have a modified experience for viewers using ad blockers

Wikia is not accessible if you've made further modifications. Remove the custom ad blocker rule(s) and the page will load as expected.