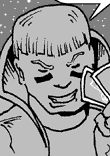 Yuri is the brother and minion of supervillain Noah Zark[1].
While pursuing Zoë and Gwynn, the Smegway scooter Yuri is riding tips over and explodes, mortally wounding him. Noah saves Yuri's life by using Red Durango to transfer his mind into the body of a squirrel[2].
Yuri attends the auction of Dr. Shankraft's Displacement Drive Vehicle as a representative of Zark Industries.
References
Edit
Ad blocker interference detected!
Wikia is a free-to-use site that makes money from advertising. We have a modified experience for viewers using ad blockers

Wikia is not accessible if you've made further modifications. Remove the custom ad blocker rule(s) and the page will load as expected.